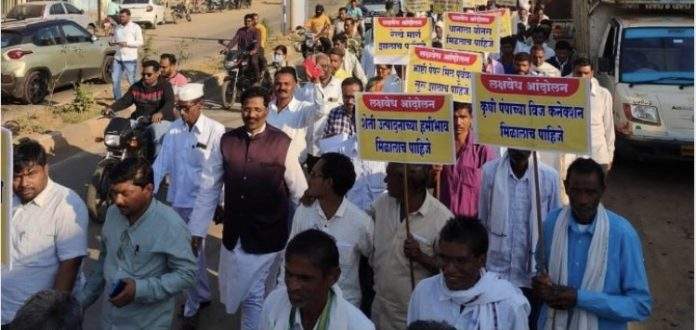 Gadchiroli Dec. 20 (District Correspondent) A huge morcha of the farmers, farm labourers and unemployed youths was taken out on Monday on the collectorate here by Jan Sewa Vikas Manch under the leadership of its founder President and senior leader Atulbhau Ganyarpawar to attract the attention of the government towards various problems.
Before the morcha started, a public meeting was held at Rajiv Gandhi Sabhagriha in Indira Chouk of the city where large number of people from different parts of the city had assembled. Mr. Ganyarpawar and other leaders addressed the gathering and highlighted the problems of the farmers and unemployed people.
The morcha then proceeded to the collectorate covering around 5 kilometres of distance winding through main streets of the city, shouting slogans and holding placards of the demands throughout the route.
A memorandum of these demands was then submitted to the District Collector by a delegation led by Ganyarpawar which consisted several other activists including Adv. Sanjay Thakre, Suchit Raut, Balu undirwade, Shemdeo Chafle, Ramesh Chukkawar, Ashok Arke, Gosai Satpute, Murlidhar Bure, Naresh Juware, Gurudas Chidhri, Arun Bandawar, Raju Atram, Parmanand Mallick, Jagdish MaharajPancharang Mandal, Parshuram Dey and others.
The main demands in the memorandum included the compensation of the crops on Allapalli-Ashti Road damaged by the Surjagad Steel Plant dust be given soon, local unemployed people be given priority in Konsari Steel Plant, paddy growers be given bonus of Rs. 1,000 per quintal, the farmers affected by Medigatta Barrage be given compensation, wet drought be declared in the district, farmers be given uninterrupted power supply and their power bills be waived off, height of the low bridges be raised, per acre 20 quintals paddy be allowed to be purchased from the farmers, educated unemployed youths be given Rs. 10,000 per month allowance, 60 percent subsidy be given to the industries in the district and many other demands relating to the district.
Mr. Ganyarpawar has threatened to launch an intensive agitation if these demands are not fulfilled by the government soon.
Photo A view of the morcha