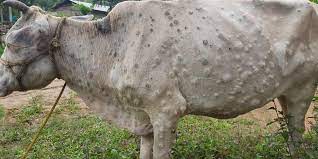 Gadchiroli Nov. 7 (District Correspondent) Lumpy Skin Disease has been reported for the first time in village Shivni in Gadchiroli taluka livestock. Shivni village and the nearby areas in the radius of 5 kilometers has been declared as an affected area and 5 km electricity area and the people have been asked to remain alert. The other villages in the area are Kaneri, Pulkhal, Mudza, (B), Mudza, (Tukum), Wakdi, Dongargaon ( Buzruk), Dongargaon (Tukum), Hirapur Chak and Kripala. A total of 4310 vaccinations have been done in the said village, according to official release.
District Collector Sanjay Meena has appealed that if there are any animals that have escaped vaccination in the village in the said area, they should get their cattle vaccinated immediately from the nearest veterinary clinic. A total of 4,30,000 vaccines have been received in Gadchiroli district and 4,04,446 have been vaccinated till date.
So far the outbreak of the disease has been found in Jalgaon, Ahmednagar, Akola, Pune, Dhule, Latur, Aurangabad, Beed, Satara, Buldhana, Amravati, Osmanabad, Sangli, Solapur, Kolhapur districts of Maharashtra state.
The animals affected by lumpy skin disease have the symptoms of fever, 10-15 mm size hard nodules on the whole body, hard nodules, ulcers in the mouth, nose and eyes, difficulty in chewing fodder, weakness, loss of appetite, weight loss, loss of milk production, visual impairment due to eye ulcers, sometimes pneumonia or mastitis, swelling of the legs and limping. The symptoms of abortion are seen in the pregnant animals. The animals affected by this disease recover in two-three weeks. Therefore, the Collector Sanjay Meena appealed that the treatment should be done on time.
It has been made it mandatory to every person, Non-Governmental Organization, concerned Local Self-Government to intimate the nearby veterinary clinic about the animals with these symptoms under section 4(1) of the Prevention and Control of Infectious and Contagious Diseases in Animals Act, 2009.